An international perspective enriches Mirva's work experience
Spare Parts Marketing Manager Mirva Korhonen appreciates varied working days and working in an international organisation. Around 95 per cent of her communications are outside Finland. Working with colleagues from different countries requires an open mind, flexibility and an understanding of different cultures. It is very interesting and instructive.
"My family and I have talked about the possibility of working abroad at some point. AGCO has operations in dozens of countries and my current job can be done anywhere in Europe" - Mirva Korhonen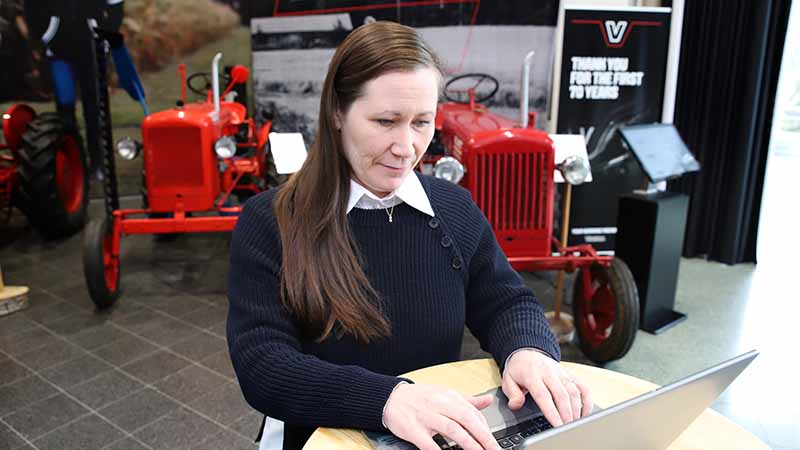 Mirva Korhonen joined Valtra in November 2018. Prior to that, she has worked in service and marketing roles in various industries and in different parts of Finland. When a position opened at Valtra, Mirva didn't hesitate.
 "There are not many international companies of this size in Central Finland. I could have applied to the paper machinery sector, for example, but this industry is more familiar and interesting," says Mirva.
Mirva Korhonen's father has worked on a farm and her uncle still farms these days. As a little girl, she used to take a nap in the passenger seat of a Valmet cab. So tractors are familiar to her.

"I value this industry. Agriculture is really important, because without agriculture few of us would have food on the table. It's great if we can make work easier and more efficient, and make everyday life on farms safer."

Mirva came to work at Valtra as a product manager for spare parts, with part of her time dedicated to marketing. A couple of years later, she moved entirely to after-sales and parts marketing.

"I work on marketing projects for all AGCO tractor brands, including Valtra, Massey Ferguson and Fendt in Europe and the Middle East. Our supervisor is based in the UK and our teammates are based in the UK and Germany. I deal with about 15 different nationalities on a weekly basis and even more on a monthly basis. It makes the days interesting and varied."

In practice, the work is very much project management.

"I make sure that different perspectives are taken into account, things move forward and everyone knows where they stand. There are a lot of meetings, - half my working time or more. There are meetings with AGCO's internal sales, marketing and other teams, as well as with external stakeholders, such as film production companies."

Staff representation on the Management Board

Mirva Korhonen has been a senior staff representative on Valtra's management team for a couple of years.

A couple of years ago they started looking for staff representatives, I was interested and I was selected. The term always lasts two years and I was re-elected by my colleagues. There are management group days once a month. This is an opportunity to bring the staff perspective to the management of the company. And it's also a vantage point for the company. You get to understand the background and why the company does things the way it does.

According to Mirva, there is enough travel for work, maybe five times a year for a few days at a time. Travelling gives her the opportunity to meet colleagues from different AGCO organisations and, of course, teammates.

"I work from home a lot, but it's also nice to go to the office occasionally to see local colleagues. On certain days, my team and I have a coffee break together, where we can connect remotely, have a coffee and talk about non-work stuff."

Flexible working hours and family life

Mirva has two active teenagers at home and appreciates flexible working hours.

"Flexibility is a really big thing for me. It's improved since corona times, as teleworking has become more common. I can use flexibility as work and family life dictate. For example, I can work at the office in Suolahti during the day, take the kids to hobbies and have a meeting with North American colleagues from home in the evening."

All in all, Mirva enjoys her time at AGCO and has not considered leaving.

I have a really nice team, interesting tasks, and enough responsibility and opportunities to develop. I feel that at the moment it's a good place to be.